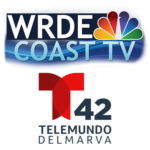 Bilingual Video Journalist
WRDE-COAST TV/Telemundo Delmarva is located within minutes of the Atlantic Ocean and the beautiful beaches. We are an NBC and Telemundo affiliate that covers the coasts of Delaware, Maryland, and Virginia. We work in a new state-of-the-art digital facility, and we have a helicopter. WRDE and Telemundo seek an enterprising, fully bilingual video journalist with at least two years' experience to join our broadcast team.
Applicants must have strong communication, writing, and interviewing skills in English and Spanish. Must enunciate clearly in a pleasant speaking voice. Must be aggressive and thorough in breaking news situations. Must have the ability to learn our newsroom computer system ENPS. Must have experience shooting video and editing with Adobe Premier Pro editing software. Must interview sources, write copy, and deliver stories on deadline for TV, our website, and our social media outlets, in both languages.
College degree and two years' experience required. Bi-lingual speech skills are required. Knowledge of Delmarva is a plus.
If you desire a great lifestyle and have a strong work ethic, apply at:
Or mail resume to:
Human Resources
WBOC
1729 North Salisbury Blvd.
Salisbury, MD 21801
NO PHONE CALLS PLEASE
We are an "Equal Opportunity Employer"